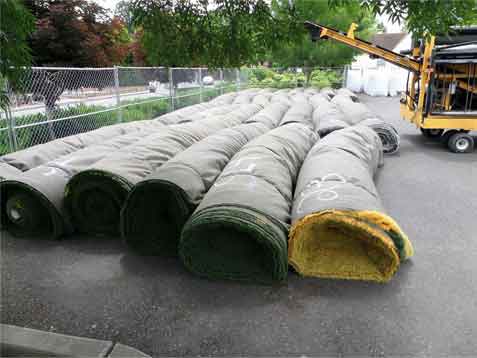 Sports Field Removal has revolutionized artificial turf removal and recycling with our innovative approaches, making us a leader in the synthetic turf industry.
We specialize in:
artificial turf removal
reclamation and separation of sand and rubber infill
laser grading
base work
Builders, architects, and athletic directors from all across the United States turn to Sports Field removal for environmentally-friendly, economically-sound removal of synthetic turf fields that are past their prime.
We can handle any size sports field.
Our turf removal program: Remove, reuse, recycle
Artificial surfaces have never been safer and more high-tech, but they still have a limited lifespan. More and more high school, collegiate and professional athletes play and practice football, soccer, hockey, baseball, rugby, lacrosse and many other sports on synthetic turf fields.
So when it is time to replace the surface, turn to Sports Field Removal for removal and recycling of artificial turf. We have developed a smart, efficient process in which we remove old sports field surfaces to prepare for stadium or sports field renovations.
Easier on the sports fields – and the planet
By streamlining our process and custom-designing the machines we use, our artificial turf removal process has less structural impact and very little impact on the gravel base or shock pads compared to other providers' processes. The turf is removed in wide strips with minimal disruption to the base, and infill is removed and separated. Both can be repurposed at other facilities or recycled, keeping the turf and infill out of landfills.
Sports Field Removal utilizes state-of-the-art laser equipment, allowing us to work efficiently in tight areas as well as wide-open fields. Laser grading and leveling provide the best possible surface for the installation of the new athletic field.
More importantly, our certified operators have years of training and experience to ensure every project is completed on time, on budget and to your full satisfaction. We offer complete support, from consultation and planning to construction, removal and recycling.
Contact us today to learn more.
We are, and will be, quite simply the best at what we do – Sports Field Removal.